Our next online PECL is Monday 7th December 2020
PROPERTY EXPERT COMMUNITY – LIVE by Town Planning Experts
ZOOM CALL WITH JON McDERMOTT (TPX) and WILL LUCEY (LUC CAPITAL)
Finance and Development, plus Planners Question Time
Due to current events, we are now hosting an online Zoom call with our experts in replacement of the old format events. This call will be free but bookings are advised to reserve your slot.
Date: Monday 7th December 2020
Time: 7pm – 9.30pm
Free tickets available here: https://www.eventbrite.co.uk/e/property-expert-community-live-december-tickets-127743836253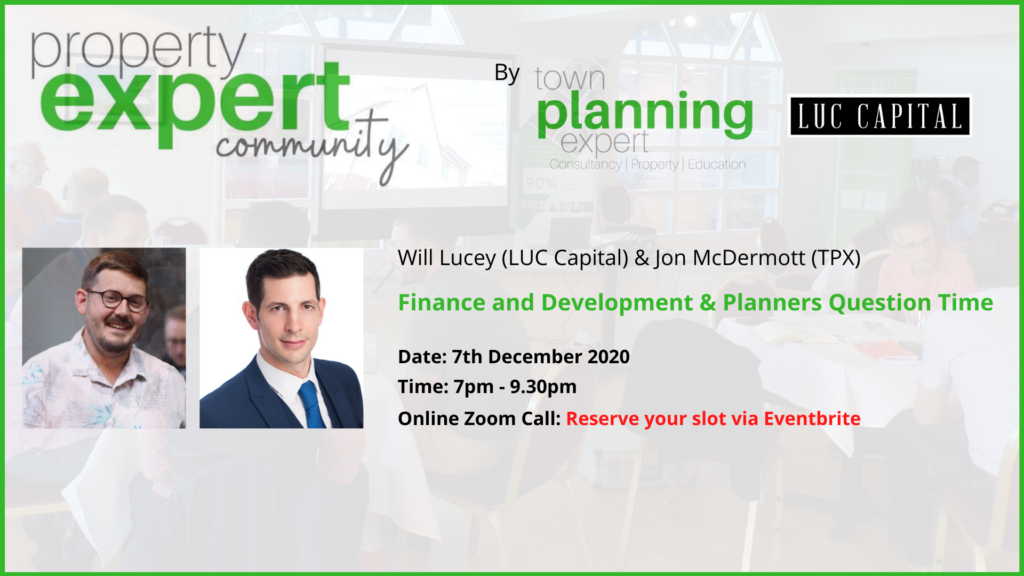 What's coming up at the next PEN?
We have a fantastic array of speakers taking centre stage at our virtual event over the next few months. Here is a taste of what you can expect!
January 6th – Ian Knight
February 3rd -Richard Dickson
March 2nd – Jordan Willis – Finance
April 6th – Deal Clinic Zoom Call – TPX
May 4th – Jon McDermott & Emma Morby
June 1st – Jon McDermott & Claire Sheehan
July 6th – Jon McDermott & Chris Tomes
August 3rd – Jon McDermott & Sunny Mahal
September 7th – Jon McDermott & Will Lucey
October 5th – Paul Davis
November 2nd – Jon McDermott, Will Lucey and Nicola Davies
December 7th – Jon McDermott & Will Lucey
---
What you Missed Last Month! – and your excuse was?
Guest Speaker: Jon McDermott & Will Lucey, and Nicola Davies
Topic of Discussion: Finance Monthly Catch Up and Planners Question Time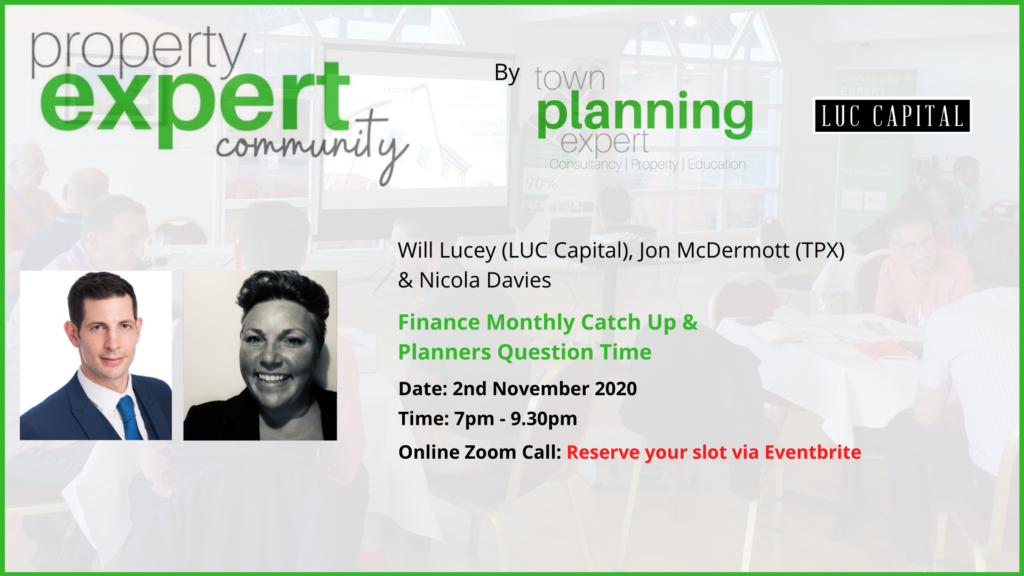 ---
Sign up to our exclusive mailing list: